PLAN YOUR TRIP

---
TRAVEL
Get yourself to the Iquitos airport in northeastern Peru and we'll take care of the rest. It's impossible to drive to Iquitos from other areas so the only way to get there is by plane or boat. Since a boat would take days or weeks, we recommend you fly. We can offer travel suggestions, if needed.
Once you get to Iquitos, we'll pick you up and take you directly to the lodge. Make sure to book your flights so that you arrive no earlier than 10:00 AM and no later than 2:30 PM and make sure your departing flight leaves after 12 Noon. If you arrive in Iquitos after 3:00 PM, you will need to spend one night in Iquitos and we will pick you up the following morning. We also can recommend you some hotels in Iquitos
Most flights to Lima require you to spend one night before flying to Iquitos the next day. Again, we can make a good hotel recommendation for you. For your flight from Lima to Iquitos, we only recommend you fly with LATAM. LATAM is the largest airline with the most options, and it can be more expensive, but delays are fairly rare with them. We recommend avoiding the other local airlines as they are more likely to experience flight delays. We highly encourage booking a direct flight from Lima to Iquitos.
Please send us your flight details to and from Iquitos so we can make sure we pick you up and drop you off at the right time.
HOW TO PREPARE
The first step is to make your reservation with us. Once you've done that, please begin preparing for your trip. Please consider these items…
Medications and Vaccines
Please visit this website as soon as possible to understand the recommendations of the US Center for Disease Control and Prevention. Other similar websites in other countries are fine too. It provides recommendations separated into categories of All Travelers, Most Travelers, and Some Travelers. We recommend you schedule a visit with your doctor 4 – 6 weeks before your trip to discuss your medications and vaccines. You should also discuss antimalarial medications and possibly an antibiotic in case you have any gastrointestinal problems during your trip. Some doctors will prescribe an antibiotic which will cover you for both.
Electronic Devices
Electricity in Peru and at Amazon Antares Lodge is 220 Volts. The plugs accept two thin rectangular prongs like those used in the US. Please check the transformers on your electronic devices to see if they can use 220 Volts.
Dietary Restrictions
We endeavor to serve food that will meet the tastes and needs of all guests. When we can, we will give you a couple choices, but the menu is not À la carte. Please let us know if you have any dietary restrictions.
Money
The currency of Peru is the Nuevo Sol. To get the current conversion ratio, type the following (but with your currency) into the Google search engine:
convert 1 USD to PEN for US Dollars
convert 1 EUR to PEN for Euros
convert 1 JPY to PEN for Japanese Yen
convert 1 CNY to PEN for Chinese Yuan
We recommend that you get cash from ATMs instead of converting your currency into Nuevo Soles in Peru. ATMs will generally give you the best conversion ratio. Once you get to the lodge, you will need cash for drinks, tips, and souvenirs – all other expenses are included. When you visit a local village, you will likely have the opportunity to purchase handicrafts and souvenirs.
Gratuities
if you feel they exceeded your expectations please feel free to tip your guide and your boat driver directly and/or any other member of the staff
BEST TIME TO GO
Spring, Summer, Fall, or Winter –
Amazon Antares Lodge
remains an ideal vacation retreat year-round. In planning your trip, you will want to take into consideration the type of Amazon experience you prefer. December – May brings high-water followed by the low-water season that spans June – November. Still, the temperature, humidity, and daylight hours are similar year-round due to the lodge's close location to the equator. Here are some of the differences between high water and low water seasons…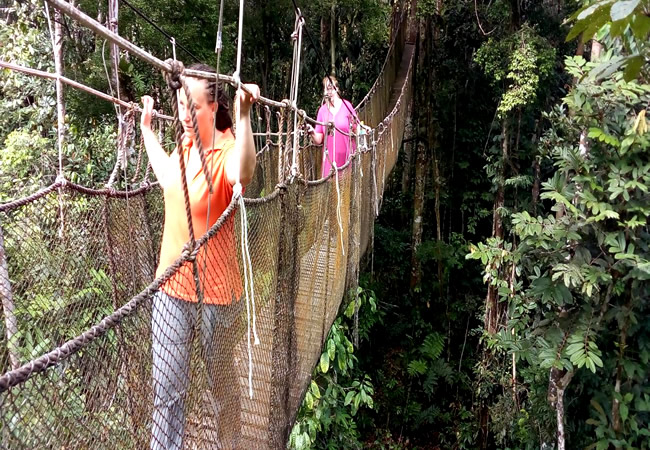 High Water:
Typically December through May
Rivers are about 20 – 25 feet higher.
More waterways are navigable by canoe for animal and forest viewing in lakes and streams.
More rain but generally not bad at all. Rain occurs frequently in low season too.
A few degrees cooler.
There tends to be a few more mosquitos, but that's not an absolute and they can be found year around.
The amazon rainforest is usually its lushest and some would say most beautiful.
More pink dolphins can be found directly in the front of the treehouse hotel, but they can easily be seen year around not far from the lodge.
Low Water:
Typically June through November
Rivers are about 20 – 25 feet lower.
More jungle paths are exposed for walking excursions.
Travel to some areas requires a little walking instead of only canoe.
Less rain.
A few degrees warmer.
There tends to be fewer mosquitos, but that's not an absolute.
More people travel to Peru during June – August because that's when they go on vacation.
WHAT TO BRING
We recommend you bring these items on your trip. Please contact us if you have any questions.
Recommended:
Cash( small bills of 10 or 50 soles or dollars of 10 or 50 dollars). Once you are at the lodge any additional purchases are cash only. This includes drinks at the bar, souvenirs, tips etc… All major expenses are taken care of in advance (lodging, excursions, food, transportation), but please bring cash for incidental expenses.
Light-weight clothing that breathes and easily sheds moisture (not cotton). Take one set of clothes for each day.
Long pants are recommended for jungle walks and insect prevention.
Long or short sleeve shirts. Long sleeve shirts aren't as cool, but protect better from insects.
Long socks for insect prevention
Hat for sun protection (baseball-style or wide-brimmed)
1 – 2 pairs of comfortable walking or hiking shoes (rubber boots are provided for some excursions)
Insect repellent containing 20 – 30 % DEET. Many times there will be very few mosquitos and insects. Other times there will be many. Take a small bottle that you can keep in your pocket for use when needed.
Plastic bag for dirty clothes
Sunscreen
Camera equipment
High quality cameras and lenses or compact cameras, whatever suits you
Dry bag or other water protection (at least a Ziploc bag)
Don't forget your battery charger.
Flashlight (headlamps are usually best)
Personal toiletries
Personal medications Optional
Sandals or leisure shoes for around the lodge
Binoculars